Colloquium on Privacy Rights and Data Security by K. Sudhir
Time
Friday, March 26, 2021 - 11:00am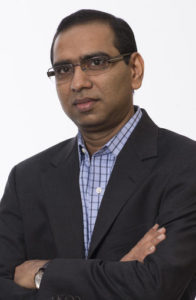 Event description
Speaker:
K. Sudhir
, James L. Frank Professor of Marketing, Private Enterprise and Management at the Yale School of Management
Title: Privacy Rights and Data Security - GDPR and Personal Data Driven Markets
Abstract: The talk investigates how the two key features of GDPR (EU's data protection regulation)—privacy rights and data security— impact personal data driven markets.  First, GDPR recognizes that individuals own and control their data in perpetuity, leading to three critical privacy rights: (i) right to explicit consent (data opt-in), (ii) right to be forgotten (data erasure), and (iii) right to portability (switch data to competitor).  Second, GDPR  has data security mandates to protect collected data against unauthorized access that breach privacy.  The right to explicit opt-in allows goods exchange without data exchange. Erasure and portability rights discipline firms to provide ongoing value and reduces holdup using one's own data. Overall, privacy rights restrict the data that collectors can legally collect or use, while data security protects against illegal access and use. We study the effect of GDPR using a two-period model of forward-looking firms and consumers in which consumers exercise data privacy rights balancing the cost (privacy breaches, risk of price discrimination) against the benefits (product personalization, price subsidies) of sharing data with firms. By reducing expected privacy breach costs, data security mandates increase opt-in, consumer surplus, and firm profit.  Privacy rights reduce opt-in and mostly increase consumer surplus at the expense of firm surplus; interestingly they hurt firms more in competitive than in monopolistic markets. While privacy rights can reduce surplus for both firms and consumers, these conditions are unlikely to be realized when privacy breach risk is endogenized. Further, by unbundling data exchange from goods exchange, privacy rights facilitate trade in goods that may otherwise fail to occur due to privacy breach risk.
Speaker biography: K. Sudhir is James L. Frank Professor of Marketing, Private Enterprise and Management at the Yale School of Management. He is a pioneer in the use of structural econometric modeling in marketing. In contrast to predictive models, structural estimation focuses on obtaining policy invariant estimates that are causally identified and therefore can be useful for robust "what if" analysis of managerial and regulatory policies. He also employs game-theoretic models to theoretically investigate substantive marketing and management questions. Sudhir's research covers a range of substantive problems in customer and sales/service management. He has worked with a range of Fortune 500 companies and non-profits.  His current research agenda expands his econometric modeling work to include issues arising from big data, artificial intelligence and machine learning. Sudhir's research has been honored with multiple best paper awards from all of the leading quantitative marketing journals.